We told you how vital one hormone was for sexual health on Tuesday. But new research has come out…and it says higher amounts of the same hormone could be good for your heart.
The recent study was part of a joint effort…spanning over three countries.
It was led by Dr. Elizabeth Barrett-Connor. She's a Cornell grad is currently the Chief of Epidemiology at the San Diego School of Medicine. She's also the principle investigator on many national heart and hormone studies and has racked up several field awards.
In her latest study…she found that testosterone ("T") levels in elderly men could predict cardiovascular (CV) risk. The results were published in the Journal of the American College of Cardiology.
"Few prospective studies have demonstrated a protective link between testosterone and CV events," says Dr. Barrett-Connor.
Dr. Asa Tivesten was also in on the study. She works at Sahlgrenska University Hospital in Sweden.
"What we can say is that elderly men with high testosterone levels are relatively protected against CV events," says Dr. Tivesten.
We'll tell you more about how "T" can affect your heart. And you'll discover that while this problem may be written into your DNA…there are things you can do to get control of your "T" levels…
Testing "T"
Dr. Barrett-Conner took 2,400 men in their 70s and 80s. She first looked at their baseline levels of "T".
Then…she gathered CV outcomes from registers to make her comparison.
There was a five-year follow-up…and Dr. Barrett-Conner looked at the men's "T" levels. After accounting for health factors…she compared four groups of men. She formed the groups based on their levels of "T".
Those with the highest "T" showed a 30 percent lower risk of heart disease…compared to the other 75 percent of the group.
A total of 604 men were in the bottom quarter for levels of "T"…when the study began. And 21 percent of those men had a heart attack, chest pain, or stroke.
"High serum testosterone predicted a reduced five-year risk of CV events in elderly men," says Dr. Barrett-Conner.
More News on "T"
"T" levels are nothing to ignore. Another new study looked at the relationship between the hormone…and genetics.
Dr. Claes Ohlsson led the study. He works at the University of Gothenburg in Sweden. And he's an expert on the effects of hormones.
He studied 14,429 men…and discovered the genetic factors that can increase your risk of "low T."
"This (study) revealed novel genetic variants that significantly affect circulating testosterone concentrations in men," says Dr. Ohlsson.
It helps explain why some men have certain health problems…and others don't. So it's vital that men are aware of their "T" levels.
And heart trouble isn't the only issue. Low "T" is also liked to type 2 diabetes…and osteoporosis.
A Solution For All Men
Just because genetics can control your "T" levels…that doesn't mean there's nothing you can do.
In fact…we've put together an extensive report on this problem that so many men are facing.
More and more studies are showing the importance of "T" for men's health. It's a significant player in the male aging process. We've taken all the research…from the best doctors in the world. And we compiled our largest report ever. We separate "T" myths from facts…and give you solutions to boost your "T" levels to stay healthy late in life.
To find out how to get this report…read more here.
To your best health,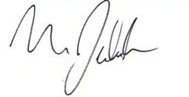 Michael Jelinek,
Managing Editor, NHD "Health Watch"