Scientists seeking natural ways to combat sexual dysfunction… now believe they may have found a solution.
They've discovered an ancient supplement that can combat the sexual problems that accompany aging. And that's good news for men who want a boost in the bedroom.
We recently told you how this supplement can increase exercise performance…and the latest research shows it can also improve your sexual performance.
So what is this supplement? It's called cordyceps. It begins as a fungus…that grows on the back of the larvae of a caterpillar. It invades the caterpillar…and fuses with it. Then it bursts out of the head of the caterpillar. The remaining caterpillar and fungus are then dried…and sold as cordyceps.
Bu-Miin Huang heads up research at National Cheng Kung University (NCKU) in Taiwan. He's studied cordyceps for over a decade. Now his latest research shows it boosts levels of one vital sex hormone.
"Results illustrated that cordyceps significantly induced (hormone) levels," says Huang.
And several doctors are supporting cordyceps.
Experts at USC University Hospital agree that "studies (suggest) that cordyceps stimulate(s) production of hormones."
Doctors from the University of Pittsburgh Medical Center think it's even more valuable than that. They say that "clinical trials suggest that cordyceps treats sexual dysfunction."
So how could a parasitic fungus help your sex life? Read on to discover how it works…and why it's essential to men's sexual health.
Starting With Cordyceps
Huang and his team had already conducted studies showing cordyceps was effective in the lab.
Next they wanted to try it on animals. They fed different concentrations of cordyceps to mice…for one to seven days.
Then they measured levels of the sex hormone. Huang found that cordyceps increased the hormone levels after three and seven days of treatment.
Huang also discovered the time it took to boost hormone levels. The maximal effect came three hours after taking cordyceps. So it worked fast.
But how do Huang's findings factor into men's sexual health?
The answer to that lies in a study by Dr. Frederick Wu. The study was one of the largest ever done on male aging. Dr. Wu is a Professor at the School of Medicine at the University of Manchester, England. And he was recently listed as one of Britain's 100 Top Doctors.
Dr. Wu and his team looked at the symptoms of male aging. They studied 3,219 men…between 40 and 79 years old. And they found three sexual sign posts of "male menopause."
The three sign posts are poor morning erections, low sexual desire, and erectile dysfunction. All are linked with low levels of the same sex hormone.
Getting Back in the Game
The hormone is none other than testosterone. Experts say "Low T" is responsible for many of the sexual problems aging men face today.
So what's the connection between Dr. Wu's study and cordyceps?
Adding cordyceps generates testosterone. That means it could alleviate the sexual symptoms that come from low testosterone.
This isn't the first time studies have shown it can improve sexual performance. A Chinese study from 1985 found a 64 percent improvement in men with sexual dysfunction when they had one gram of cordyceps per day. (viii)
Cordyceps is available as a supplement. It comes in capsule form. You can get it online…or at a health foods store. Doctors at USC University Hospital say 5-10 grams per day is a safe dose…with no side effects.
If you're interested in the link between testosterone and men's health…you can read more about it in our new report. It's loaded with the most recent research and findings about Male Aging Syndrome (MAS). Men who are looking to fight aging and get control of their health…will find safe and effective ways to turn back the clock.
Stop Male Aging Syndrome Now! is due out later this week. It's a must-read for every middle-aged man who wants to get back to feeling like they did in their twenties. In the report, we also reveal a performance formula for men…for the very first time.
To your best health,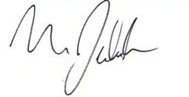 Michael Jelinek,
Managing Editor, NHD "Health Watch"