Sen. John McCain recently disclosed that doctors have given him a 3 to 14% of surviving his brain cancer.
"It's a very poor prognosis," he noted.
But Swiss scientists have discovered a treatment that has helped other patients with McCain's type of cancer beat the odds. It's a cap that kills glioblastoma tumors with electrical current.
University of Zurich researchers say it is the first treatment breakthrough in more than a decade that helps patients with glioblastoma (GBM) live longer.
The device is called Optune. It is worn on the head and exposes GBM cells to a rapidly alternating sequence of low-intensity electrical frequencies. This interrupts cancer cells' ability to function, researchers said.
Many conventional doctors are skeptical of the treatment. But a recent study showed it dramatically increased survival rates for GBM, one of the deadliest forms of cancer.
Brain Cancer Survival Triples
After two years, 43% of those using Optune plus chemotherapy survived. This compares to 31% for those on chemo alone.
At five years, Optune nearly triples the survival rate. Thirteen percent of the Optune group was still alive versus 5% of the chemo group.2
"It absolutely is an advance," said Dr. Andrew Lassman. He is brain tumor chief at Columbia University Medical Center.
Side effects from the device were minimal. They included blood-count problems, weakness, fatigue, and skin irritation from the electrodes. Patients must shave their head to wear it.3
The Optune looks something like a swim cap. It is supposed to be worn 18 hours a day. Most patients wear a hat over it while going about their daily business.
Joyce Endresen, 52, wears Optune while working. She's employed by a direct mail company in surburban Chicago. She credits the cap with keeping her cancer at bay.
"We celebrated two years of no tumor in December," she said.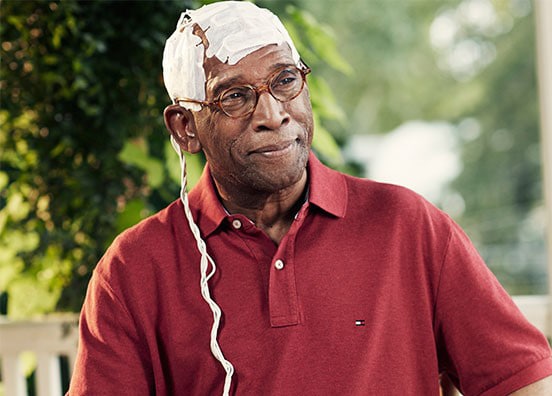 Brain cancer patient wearing Optune device
Glioblastoma is the kind of brain cancer that killed Sen. Ted Kennedy. It also took the lives of singer Ethel Merman, composer George Gershwin, Joe Biden's son Beau Biden, and baseball star Gary Carter.4
McCain, 81, has not disclosed what type of treatments he is undergoing. And he has not said if he's open to alternative options.
"We're gonna do what we can, get the best doctors we can find," he said. "And, at the same time, celebrate with gratitude a life well-lived."5
Editor's Note: We've forwarded information about Optune to Sen. McCain's office to make sure he knows about this potentially lifesaving treatment.
If you're worried about cancer, there's one other thing you should know… This natural salt is the only substance proven to reverse what REALLY kills 73% of all cancer victims. It shrinks tumors in just six weeks. And a 10-year supply costs the same as one round of chemotherapy.
So why don't mainstream doctors—or the media—ever talk about it?
Get all the details HERE.
Like this Article? Forward this article here or Share on Facebook.
References:
1 http://www.chicagotribune.com/lifestyles/health/ct-tumor-treating-fields-cancer-therapy-20170402-story.html
2 http://blog.braintumor.org/encouraging-results-novocure-clinical-trial/
3 https://clinicaltrials.gov/show/NCT00916409
4 https://en.wikipedia.org/wiki/List_of_people_with_brain_tumors
5 http://www.azcentral.com/story/news/politics/arizona/2017/09/24/sen-john-mccain-doctors-gave-me-poor-prognosis-brain-cancer-fight-60-minutes/698677001/