serves 3
Ingredients:
1 (1-pound) wild king salmon fillet, skin on, bones removed
Kosher salt
Freshly-ground black pepper
3 tablespoons Dijon-style mustard (you can use the whole grain variety)
1 tablespoon chopped chives or scallions
½ cup shelled salted and dry roasted pistachios, crushed
Directions:
Preheat the oven to 400°F. Line a baking tray with parchment paper.
Pat the fish dry with a paper towel and divide the fillet into three uniform portions. Sprinkle salt and pepper on the skin, and lay it skin-side down on the parchment-lined baking tray.
Combine the mustard and chives in a small bowl. Spread one-third of the mixture evenly on each piece of fish.
Next, sprinkle the crushed nuts on top of the salmon and pat the mixture down gently  to make sure it sticks.
Place the tray in the oven for about 10 minutes or until the salmon is cooked through to your desired doneness. If you're cooking a whole 1-pound filet, you may need to increase the baking time to 15 minutes.
Take the salmon out of the oven and let the fillets rest for a few minutes. In the meantime, reheat some leftover roasted vegetables or dice up a basket of cherry tomatoes.
Source: nomnompaleo.com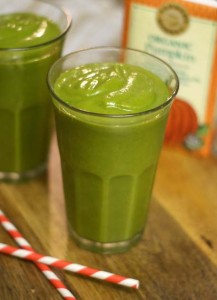 Pumpkin Spice Green Smoothie
serves 2
Ingredients:
3/4 cup pumpkin puree
1/4 ripe avocado
2 large handfuls fresh spinach
1/2 teaspoon ground cinnamon
1/4 teaspoon ground ginger
1/8 teaspoon ground cloves
1/2 teaspoon vanilla
5 soft Medjool dates, pitted
1 1/2 cups water or almond milk
2 handfuls of ice
Directions:
Combine all of the ingredients in a blender, and blend until liquified. Adjust sweetness and spice to taste, if necessary, then serve immediately!
Source: detoxinista.com
Cherry-Tomato Vinaigrette
Ingredients:
1 cup cherry tomatoes, chopped
2 tablespoons balsamic vinegar
4 teaspoons red wine vinegar
1 garlic clove, minced
1/3 cup olive oil
Unrefined sea salt and pepper
Ingredients:
Place the tomatoes, balsamic vinegar, red wine vinegar, and garlic in a blender or food processor and puree until smooth. Slowly add the oil under well blended. Season with the salt and pepper.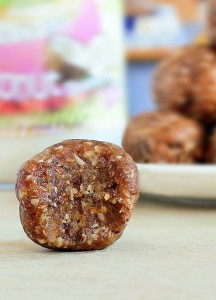 Coconut Cookie Dough Balls
Ingredients:
Scant 2/3 cup pitted dates (80 g)
1 and 1/2 tbsp coconut butter or Homemade Coconut Butter
Tiny pinch salt (can be omitted if desired)
Optional: shredded coconut
Blend everything together in a food processor. This makes a small batch, so I used my Magic Bullet. If you have a bigger processor, it might be best to double or triple the recipe so everything blends more smoothly. (The recipe can be done in a blender, but the results are stickier.) Smush into one big ball, then roll into little balls or bars or cookie-cuttered shapes.
Source: chocolatecoveredkatie.com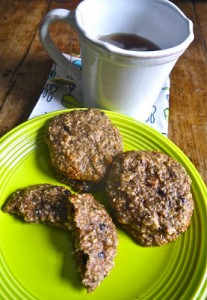 Paleo Banana Breakfast Cookies
Ingredients:
2 ripe bananas, mashed1/2 cup raw almond butter1 egg1/2 tsp. vanilla1/2 tsp. baking soda1/4 tsp. salt2 tsp. cinnamon 1-2 cups total mix-ins (nuts, shredded coconut, or raisins)Preheat oven to 350. Combine all ingredients until well blended. Drop by tbs. onto a greased or Silpat-lined baking sheets. Bake for 12 minutes or until golden brown on the bottom.These will spread a bit, so leave sufficient space between your cookies.
Source: thepreppypaleo.com