There are more positive, peer-reviewed studies about the benefits of omega-3 fatty acids than practically any other food or nutrient. These are the healthy fats found primarily in fish oil and other animal products.
They are vital for your brain and heart. They can boost your immunity, improve athletic performance, tame inflammation, fight diabetes, eliminate depression and even help you lose weight.
Now, a new study shows that compounds in omega-3 fats can help fight leukemia.
The research comes from Dr. Sandeep Prabhu's lab in the veterinary and biomedical sciences department at Penn State University. Dr. Prabhu is an associate professor of immunology and molecular toxicology at the university.
He discovered that a compound known as D12-PGJ3 targeted and killed leukemia stem cells in animals. That compound is produced from an ingredient found in fish oil.
"Past research on fatty acids has shown their health benefits on cardiovascular system and brain development," says Dr. Prabhu. "But we have shown some metabolites of omega-3 can selectively kill leukemia-causing stem cells."
Why Drugs Can't Kill This Cancer
The compound used to treat leukemia in this study is derived from eicosapentaenoic acid (EPA). It's one of the major omega-3 fatty acids found in fish and fish oil. The other, as you may know, is DHA.
Now, you may be wondering how fish oil can help combat cancer.
Leukemia is a cancer of the white blood cells. Cancer-causing stem cells divide and create more cancer cells. But the EPA in fish oil targets these stem cells and prevents them from dividing.
Leukemia is often treated with drugs. In some cases, these drugs can extend a person's life by lowering leukemia cell counts. But they fail to cure the disease. The only way to cure leukemia is to target the stem cells.
In his study, Dr. Prabhu injected mice with 600 nanograms of D12-PGJ3 (the compound derived from EPA) every day for a week.
After a week, the follow-up tests showed that the mice were completely free of leukemia. Their blood counts normalized. Their spleens returned to normal size. Best of all, the disease didn't relapse.
Dr. Prabhu is now planning to take his research to human trials.
Choose Your Oil Wisely
Omega-3 fatty acids are critically important to your health. And they are grossly deficient in most people's diet. That's why, in addition to grass-fed beef, wild salmon and sardines, we recommend you take a fish oil supplement.
Although the optimum dosage has yet to be determined, we consulted with three doctors. The ranges they suggest are the following:
900 – 2700 mg EPA
600 – 1800 mg DHA
If you take fish oil to treat a health condition (or if you are over 200 pounds), lean toward the higher range. If you take fish oil for prevention, aim for somewhere in the middle. And for children, the lower range is more appropriate.
But here's the rub. Standard fish oil capsules contain 180 mg EPA and 120 mg DHA. That would mean anywhere from 5 to 15 capsules per day. That's why we recommend Carlson's liquid fish oil. It has 800 mg EPA and 500 mg DHA per teaspoon. So all you need are one to three teaspoons daily.
Carlson's also received the highest marks for purity and quality from the independent firm, Consumer Labs. This is important, because some inferior brands may contain harmful chemicals, like PCBs and dioxins.
To your best health,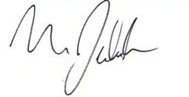 Michael Jelinek,
Managing Editor, NHD "Health Watch"