A brand new study offers good news for people with sleep problems. It shows that one tart fruit improves your sleep quality.
The research comes from Dr. Glyn Howatson. He heads research for Northumbria University in the UK. He's a top expert on the fruit, having studied it for years. His latest study looks at how it affects sleep.
And Dr. Howatson says it helps you sleep longer…and deeper.
Fruit Activates Sleep Molecule
The fruit for good sleep are cherries. Reports show that tart cherries have high levels of phytochemicals. One of which is melatonin. And that's a sleep-regulating hormone.
Reports of tart cherries containing melatonin are exactly what tipped Dr. Howatson off to putting tart cherry juice to the test.
He gathered 20 volunteers. He had them take either a placebo or the tart cherry juice for seven days. Then he measured their sleep using a sleep sensor and sleep questionnaires. He also had them take urine samples to gauge their melatonin levels.
Tart cherry juice helped the patients in two different ways.
The juice helped people sleep longer. It also improved sleep efficiency. Dr. Howatson says the good results are all down to melatonin levels. Cherry juice makes you produce more melatonin. And high levels or melatonin help you sleep. He also thinks this is why cherry juice might also help with disturbed sleep.
One Glass Before Bed
The best kind of cherry juice is 100 percent pure organic tart cherry juice. But there's one other thing you should know. The cherry juice used in the study was made from Montmorency tart cherries. And you can find that online or at most health food stores.
Try drinking a small eight-ounce glass an hour before you go to bed.
We've written about melatonin in the past…and how it can help you with jet lag. You can read that article here. It helps explain the right and wrong ways to use the sleep hormone.
To your best health,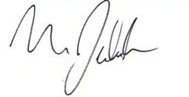 Michael Jelinek,
Managing Editor, NHD "Health Watch"