We did a recent survey at NHD to discover your top 10 health concerns. One of them was arthritis. Another was back pain. These two can go hand in hand. So our goal was to find a remedy that addresses both ailments. And we found it… in the rootlike stem of an ancient Asian plant.
The study comes from Dr. Roy Davis Altman. He's earned the distinction of Super Doctor for 2011. Super Doctors are recognized as leaders in their fields. Dr. Altman received his degree in internal medicine and rheumatology at the University of Miami School of Medicine. He now practices at UCLA Medical Center. And he's a founding member of the Osteoarthritis Research Society.
His study had a clear objective: "To evaluate the efficacy and safety of a standardized and highly concentrated extract of two [stem] species… in patients with osteoarthritis of the knee."
Significant Results from a Stem
Dr. Altman tested 247 patients over the course of six weeks. They all had moderate to severe pain. Patients either received the extract or a placebo twice every day.
"The percentage of responders experiencing a reduction in knee pain on standing was superior in the extract group compared with the control group," reported the study.
The extract group also reported greater improvements in pain levels.
The study's conclusion: "A highly purified and standardized [stem] extract had a statistically significant effect on reducing symptoms of OA of the knee."
Dr. Itamar Grotto had similar results. He's an associate professor at Ben-Gurion University of the Negev in Israel. He's published over 80 peer-reviewed articles. For this study, he teamed with colleagues at Tel Aviv University. And it was published in Osteoarthritis Cartilage.
At first, study participants didn't have much difference in pain. But after six months, the "extract group showed a significant superiority over the placebo group."
The swelling in their knees significantly decreased too. Then the extract group was switched to the placebo. Their knees swelled up again! A clear sign that the extract was working.
Dr. Andrew Weil is an expert on alternative medicine. He's the author of Natural Health, Natural Medicine. In the book, he says the plant that the extract was made from is a "natural anti-inflammatory that is worth trying in all cases of arthritis, bursitis, and other musculoskeletal ailments."
What Is This Arthritis-Killing Pain Reliever?
It's native to Asia. Cooks have used as a spice for at least 4,400 years. And it pairs well with our bladder cancer cure from last week.
It's ginger.
The potent anti-inflammatory components in ginger are called gingerols. They're the reason it reduces swelling. And the reduction in swelling is the reason for the reduction in pain (and improved mobility) in people with arthritis.
Ginger also has a warming effect. So it comforts sore joints. And it contains antioxidants. Those help clear the joints of impurities. And that allows fresh blood to flow into the painful areas.
The Future of Pain Relief
Dr. Altman's team made some interesting comments in the conclusion of his study. They noted that "Present-day therapy for osteoarthritis of the knee is directed at symptoms, since there is no established disease-modifying therapy."
Many arthritis sufferers turn to painkillers. But those drugs don't eliminate the inflammation. They slow down the receptors in the brain that sense pain. So you just don't think it hurts anymore.
That's another reason to make ginger your go-to arthritis "med." It's more than a painkiller. It reduces the swelling that causes the pain.
Ginger is available in many forms. The capsules are powdered ginger extracts. You can also get a four ounce bottle of pure ginger extract. Dr. Andrew Weil recommends one or two grams of powdered ginger a day. Whatever you choose, make sure you get 100% pure ginger.
But try fresh ginger. It's cheap and widely available. You can get the whole root in a grocery store.
Try adding grated ginger to olive oil and vinegar to make a salad dressing. If you have a juicer, throw in some ginger with your fruits or veggies. I make a lot of juices at home. Ginger contributes a nice, unique flavor… and some great health benefits. You can also enjoy pickled ginger with sushi… And add grated ginger to stir fries and soups.
To your best health,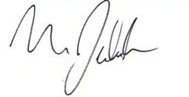 Michael Jelinek,
NHD "Health Watch"