Cancer comes in many forms. We're all familiar with the more common types…breast, colon and prostate. But the less common forms are just as devastating. And they bring their own problems.
For people suffering from head and neck cancer…they may require disfiguring facial surgery. They can lose parts of their tongue or mouth. And there's always a big risk of developing other oral cancers.
But new research offers hope…and it comes from Dr. Marilene Wang. She's a head and neck surgeon at UCLA School of Medicine…and leads research at Jonsson Comprehensive Cancer Center.
Dr. Wang is convinced that she's found a natural treatment that can combat head and neck cancer. And even better…may be able to significantly reduce their risk all together.
For the past seven years she's studied the effects of one natural supplement on these brutal cancers. Her most recent study was just published in the peer-reviewed journal, Clinical Cancer Research.
What is this all-natural supplement? We'll give you a hint. You can find it in your spice rack…
"It's not toxic, well tolerated, cheap and easily obtained in any health food store," says Dr. Wang.
Continue reading to find out what this spice is and how it works.
Adding Spice to the Study
Dr. Wang and her team first showed the anti-cancer benefits of this spice in cells…and then repeated it in a mice study. She's since put it to the test on humans.
In her human study she found the spice works just as well. And that human saliva enhances its power.
Patients with head and neck cancers were given a 1,000 mg supplement tablet of the spice. Saliva samples were taken before and after they chewed the tablet. And then a third sample was taken an hour later.
Proteins were extracted from the samples to measure cancer-promoting enzymes.
Blind samples were then sent to a lab in Maryland. The results confirmed Dr. Wang's previous findings.
"(This spice) had a significant inhibitory effect, blocking two different drivers of head and neck cancer growth," says Dr. Wang.
But how can a simple spice potentially stop cancer?
Breaking Down the Study and Cancer
Eating the spice places it in direct contact with the cancer. And also the saliva…which enhances its cancer-combating properties.
Within the saliva the spice reduced the level of cancer enhancing cytokines…proteins that serve as messengers between cells.
And more…the spice blocked the cell-signaling pathways that allow cancer to grow.
"(This spice) can work in the mouths of patients with head and neck malignancies and reduce activities that promote cancer growth," says Dr. Wang. Dr. Wang is sure that more sophisticated studies will also share this belief.
Dr. Bharat Aggarwal of the University of Texas has also studied the anti-cancer benefits of the specific spice…and is also convinced.
"It's mind-boggling," says Dr. Aggarwal. "What's exciting about this agent is that it seems to have both chemo-preventive and therapeutic properties."
So what spice is it? It's the colorful spice we call turmeric…
Turmeric's medicinal use dates back over 6,000 years to the ancient Egyptians. It's primarily known for its use in Indian cuisine…such as curry. And its chock full of healing powers.
In India it is so regularly used as medicine…that it's known as "holy powder."
Curcumin is the active ingredient in turmeric… giving it its bright yellow color. But most of all…it is the cancer-fighting extract at work. Previous research suggests it can help combat many types of cancer…and Dr. Wang's findings show it may be equally effective against head and neck cancer.
"Turmeric is safe and as far as the number of diseases it addresses…you name it," says Dr. Aggarwal. "It truly has the potential of being a wonder spice."
KP Khalsa, one of the foremost herbal experts and author of the book "Herbal Defenses" agrees with Dr. Wang. He even goes so far as to say turmeric is the world's best anti-inflammatory…helping to break down cancer growths and prevent them.
Spice Up Your Life
"There's potential here for the development of curcumin as a treatment for cancer," says Dr. Wang.
Dr. Wang suggests giving the spice to those who have previously suffered an oral cancer to fight recurrence. As well as to those who may be at risk.
People most at risk for developing head and neck cancers are smokers, people who chew tobacco and people with the HPV virus.
Simply adding a little of the spice to your meals won't hurt…and it's a good start. But it isn't enough.
To be effective in fighting cancer the turmeric must be concentrated…and taken in a supplement form.
To be chemo preventive…turmeric also needs to be taken in high dosages. Large dosages have been safely tolerated and deemed overdose-proof.
The current dosage for anti-cancer properties is 1,000 mg. The only warning…the brightly colored spice may cause temporary stains. But considering the cost of cancer…that may be a small price to pay.
Dr. Wang's next step is to test the supplement on patients scheduled for surgery.
As always NHD will keep you posted on turmeric's fight against cancer. And Dr. Wang's future research.
To your best health,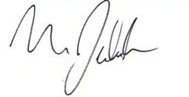 Michael Jelinek,
Managing Editor, NHD "Health Watch"