There's a new treatment for one of the leading causes of heart problems.
It's found in a mixture of antioxidant compounds…which you can get in a specific type of Asian cooking oil.
If it's not in your kitchen yet…you'll want to get it soon. That's because a new study shows the oil can lower bad (LDL) cholesterol.
The study comes from Dr. Richard Tulley. He leads research at Louisiana State University (LSU). Dr. Tulley has received several research awards…and is a highly regarded speaker.
"(The) oil lowers cholesterol in healthy, moderately hypercholesterolemic adults," says Dr. Tulley.
The Indian Council of Medical Research is one of the oldest research bodies in the world. They had two of their top researchers from the National Institute of Nutrition review the oil.
"The effect of (the oil) has been established in human subjects," says Dr. Thummala Raghuram. "(It) could be a suitable edible oil for patients with hyperlipidemia."
Dr. Raghuram has been publishing studies for nearly 30 years. He's a trusted member of the Food and Drug Toxicology Research Center in India.
So what is this oil? And what are the components that make it heart-healthy? Keep reading to see exactly how it works…and how to add it to your diet.
Study Proves More than One Point
High blood cholesterol – known as hyperlipidemia – can damage heart health. That's because it causes fat and cholesterol to build up in your arteries. Then plaques begin to form…they harden…blocking arteries as they do…and damage your heart. This is called atherosclerosis.
Dr. Tulley's new study shows that this oil can stop that from happening.
He conducted a 10-week study with 14 volunteers. The oil was added to everyone's diet. In fact…it made up one-third of their total dietary fat. They compared the oil with another oil blend…which had a similar fatty acid composition.
His goal was to see if the oil's components made a difference…beyond the work of fatty acids.
"The reduction of cholesterol was due to other components present in the (oil)," says Dr. Tulley.
The oil reduced LDL cholesterol by seven percent. And HDL cholesterol stayed the same. Dr. Tulley says the results were positive given the short time frame.
"Total cholesterol was significantly lower with consumption of (the oil) than with consumption of the control diet," says Dr. Tulley.
Now more experts are researching the oil…and the results are promising.
One is University of Rochester Medical Center researcher, Mohammad Minhajuddin. He's been on the case since 1996. Much of his research started out in India…and it shows the oil lowers cholesterol in humans and animals.
Minhajuddin's latest work used an isolated compound from the oil to lower cholesterol in animals.
How well did it work?
Total cholesterol levels dropped by 42 percent. Bad (LDL) cholesterol levels dropped by a whopping 62 percent. The results were published in the Journal of Food and Chemical Toxicology.
And he says that the oil isn't just effective…it's safe too. "Scientists have not found any adverse effects of (the components)," says Minhajuddin.
The Compounds at Work
The heart helper is rice bran oil. It contains a mixture of special substances…called gamma oryzanol. It's a combination of sterols and ferulic acid.
It's already approved in Japan to treat high cholesterol. People in the U.S. are catching on…but it's widely used here as a sports supplement.
Rice bran oil is extracted from the germ and inner husk of rice. It's suitable for high-heat cooking. Try substituting it for olive oil next time you cook on high heat. Olive oil should be kept on temperatures below 250 degrees.
Gamma oryzanol is available as a supplement…in capsule form. You can get it online or at a health foods store.
Studies show 300 mg daily of gamma oryzanol can lower cholesterol.
But there's another way to protect your heart…by reading our newest report. We take you behind the curtain…to show you the heart drug and surgery scam. You'll also learn about the kidney and heart health connection. And discover a 10-minute test that will show your odds of heart attack death.
The three-part comprehensive report will be out soon. We'll let you know when you can get it.
To your best health,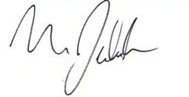 Michael Jelinek,
Managing Editor, NHD "Health Watch"